Print this Page
Budgeting Basics: Our Top 5 Tools to Help
What does "managing your finances over both the short term and the long term" mean to you?
Unexpected expenses can happen along with trying to pay off debt and save for retirement. Ask yourself if your finances hold up to the stress test. For many Americans, they do not and can have a disastrous effect; causing debt or exasperating already existing debt. Here are a few budget related numbers from polls of Americans to get you motivated: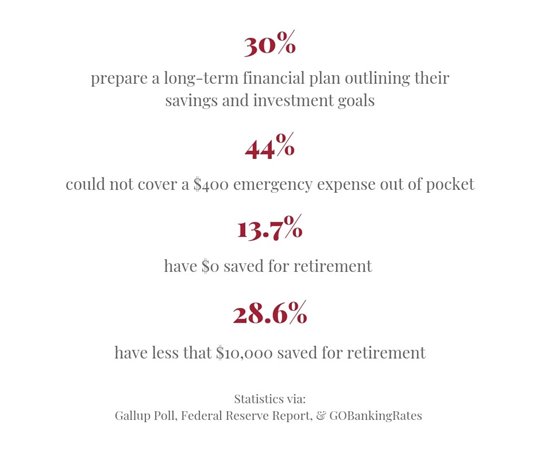 So, a budget is a good thing, right? But knowing you want to make a budget and getting started using a budget can be two different things. This article will help with the basics and provide some options for free online budgeting tools. Let's start with Step 1.

Step 1 - How to create a budget

Try the 50-30-20 rule. With this budget, your paycheck is divided by:
50% Necessities
30% Wants
20% Debts
To see what this means for your earnings, use this budget calculator from NerdWallet, or consider using our Money Management tool.

But how do you get started?
Know how much you really make. Once this is determined, you can have a clear and strong foundation to get started.
Set short-term and long-term goals. This will help in making difficult choices to reach your goals.
Use checking and savings accounts that already have built-in tools. This includes automatic transfers. Set it up to be weekly, bi-weekly, or whatever works for you and will automatically take the amount you set from your checking account and deposit into your savings.

Besides budgeting, here are some other unique ways to save money:
Spare change jar. When your wallet or pocket gets heavy with all of your spare change, put it in a designated jar. When it is full, use those funds towards a vacation, to pay off debts, etc.
$5 Challenge. Stop using $5 bills and put them away into your savings. It can add up fast and help you save. Read more about it from blogger Marie Franklin who saved more than $40,000 in 13 years by saving all her $5 bills.
Step 2 - Should You Use an Online Budgeting Tool?
Weigh the pros and cons of using an online budgeting tool. Knowing what to expect will help keep you and your finances in line.
Pros and Cons of Using an Online Budgeting Tool:
Pros:
Easy set-up. Link to your accounts and the program will automatically categorize your purchases for you.
Mobility. Most online budgeting tools have a mobile app to make keeping your finances in order that much easier.
Tracking & Alerts. With these apps, you can track your bills and get notifications to make sure you are never late on payments.

Cons:
Some options cost money. Some, but not all, budgeting tools have a monthly or yearly subscription. It could be a few dollars a month or more but save that money and use one of the many options that are free.
Mismatching & "Uncategorized." There is a possibility that, when shopping in places like Wal-Mart or Target, spending may be categorized wrong and need to be manually updated.
Ads. By opting into a free budgeting tool, you may end up with ads and only upgrading to a paid subscription will get rid of them.
Security. When finances and access to your account are involved, security should be a top concern. When you find the desired program, look into what it provides for security and make sure your information will be safe.
Read more on the "Pros and Cons of Budgeting Apps" from InfiniGeek.
5 Free Online Budgeting Tools
1. Money Management - MIT Federal Credit Union


Based in Cambridge, MA, MIT Federal Credit Union works to make banking easy and provide what you need to know about your finances. The "Money Management" tool can be accessed through online banking and the mobile app. With this tool, you can:
Consolidate accounts. Access all your accounts and transactions in one place, even from other financial institutions!
Detailed reports and tracking. These reveal specific areas where you can change your spending and saving habits.
Maximize tax returns. Access complete annual spending records to help you get the most out of your taxes.
Con: Available to members of MIT Federal Credit Union. To see if you are eligible, read their membership guidelines.
Download the MIT FCU mobile app.
Questions or concerns? Contact MIT FCU
2. Mint - Intuit

From the company that brought us QuickBooks and TurboTax, Mint makes budgeting easy with a simple and sleek design. This online tool and mobile app are popular and widely used by those looking to budget.
Suggested Budgets. Based on your spending, the tool will give you automatic suggestions.
Tag Purchases. This allows you to customize your purchases beyond the categories.
Alerts. When due dates and bills are coming and you are low in funds, the app will notify you.
Con: As mentioned previously, Mint sometimes lists purchases as "uncategorized" and needs to be manually changed. This could result in more time spent setting it up.

Mint may be free and have no hidden fees, but as Investor Junkie states, Mint receives payment from various financial services by recommending their services. Another way they make money is by having banner ads and a sign up for premium access to your credit report. Their financial data is sold to various providers though the data is collected anonymously and does not refer back to any individual user. MIT FCU received no compensation for inclusion of this product in our post.
3. PocketGuard - PocketGuard, Inc.
Founded in 2015 and located in Silicon Valley, California, PocketGuard is one of the relatively newer apps on the market. It offers some unique tools that can give you a different look at your budget and different ways to save money.
"In My Pocket". This tool subtracts your bills, savings goal, and ongoing spending from your income and shows you what is left over i.e. in "your" pocket. It is an interesting tool to avoid overspending.
Negotiating bills. This app offers the added option to negotiate bills as seen in the photo on the right. The sample photo shows an AT&T bill with a 76% probability of success in negotiating for a lower bill. Just be aware that negotiating your bills can have a negative impact on your credit score.
Cons. When it suggests ways for you to save money on your bills, keep in mind that it is through third party companies and that, as stated in the photo, a percentage of the savings is given to the company as a payment of services. Negative bills can also have a negative impact on credit. The PocketGuard app is free, but the following tools are only available with the paid version include:
Creating your own categories
Adding cash transactions and cash bills
Record ATM withdrawals
This tool is also only available as a mobile app, but the online version is in beta.
PocketGuard Plus: $3.99/month or $34.99/year
4. Albert - albert.com
Launched within the last couple of years, Albert is a tool that helps you automate your finances and save you more money.
Spending alert. Get notified on purchases to help you stay in budget. The photo below shows the kind of message you will receive.
Bill alert. Worried that your bills might get out of hand? Albert will let you know when the cost of your bills change so you can stay on track.

Cons: One of the features that sets Albert apart from the other apps is Albert Genius but is only available with a monthly fee. Albert Genius lets you have a customized service from financial experts that help you with any of your financial needs. You can text them through the app to ask any questions or they will text you with suggestions that help you keep more money in your pocket.
Albert Genius: $4-6/month (first month is free)
5. Goodbudget - goodbudget.com
Started in 2009 and located in San Francisco, Goodbudget is a budgeting tool designed with the budgeting envelope system in mind. For example, if you only want to spend a certain $300 on groceries, you designate that amount to the envelope and only spend from that amount. It is a different and unique way to visualize your savings.
Easy to use. Technology can be complicated with many add-ons and ways to organize your spending so keep it simple.
Hands-on. If you feel doing the manual work in organizing your finances, this app will help you keep committed.
Cons: This app does not sync with your bank account which is why you must do the manual work in sorting your spending which will take a lot of time. The free version of this app restricts you to only one financial account which may make your organizing more complicated. The following are some of the benefits that are only available by upgrading to Plus:
Unlimited Accounts
5 Devices
7 Years of History
Email Support

Read this review by Michael Ansaldo on PCWorld to learn more about the app and check out Goodbudget's pricing to get a better idea of what you will have access to.

Goodbudget Plus: $6/month or $50/year
Popular Paid Budgeting Tools
Ready, Set, Budget!

Creating a budget can be daunting, but these tools will help make it easier and more simplified. Weigh the different options and pick the one you feel is right for you. There are free tools, but even a paid app may be a good deal. Remember, what works for one person might not be the best option for you so do not be deterred! Find one that you want to try and get budgeting!
MIT Federal Credit Union offers Money Management, and was not paid a fee for inclusion of the other apps mentioned in this post.
« Return to "Money Management"
Go to main navigation