Print this Page
How to Buy a Pre-Owned Car in 8 Steps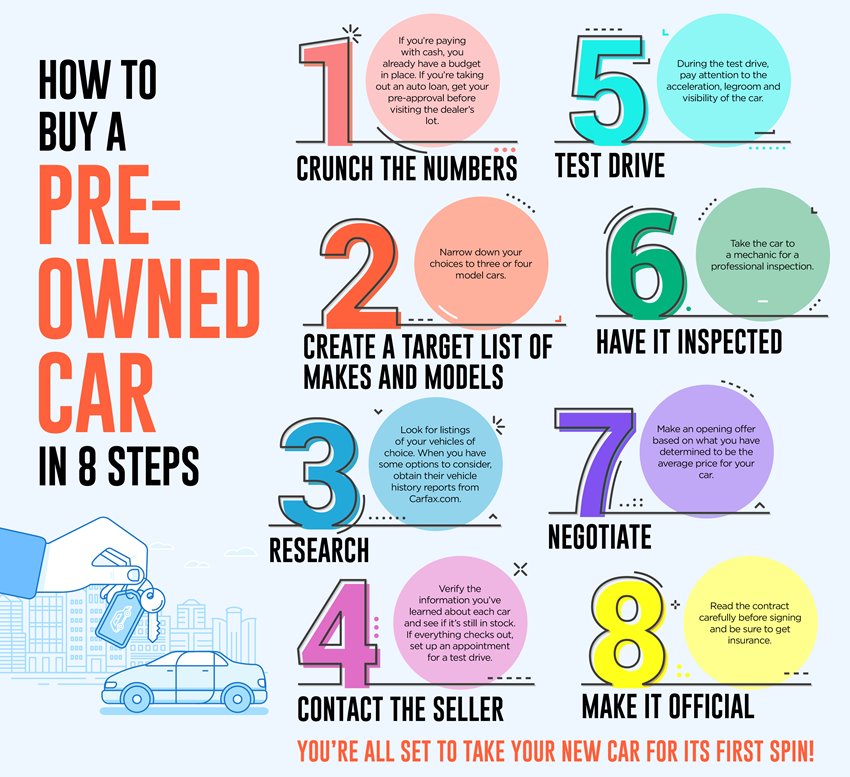 Crunch the numbers -

If you're paying with cash, you already have a budget in place. If you're taking out an auto loan,

get your pre-approval

before visiting the dealer's lot.

Create a target list of makes and models - Narrow down your choices to three or four model cars.

Research -

Look for listing of your vehicles of choice. When you have some options to consider, obtain their vehicle history reports from

Carfax.com

Contact the Seller - Verify the information you've learned about each car and see if it's still in stock. If everything checks out, set up an appointment for a test drive. Or even schedule one virtually if needed.

Test Drive - During the test drive, pay attention to the acceleration, legroom and visibility of the car.

Have it inspected - Take the car to a mechanic for a professional inspection.

Negotiate - Make an opening offer based on what you have determined to be the average price for your car.

Make it official - Read the contract carefully before signing and be sure to get insurance.
You're all set to take your new car for its first spin!
« Return to "Auto Loans"
Go to main navigation