Print this Page
Staying In Control Of Your Cards Has Never Been More Important
With financial fraud and identity theft on the rise, it's only natural to worry if it will ever happen to you or your loved ones.
Thankfully, it's now possible to protect yourself from fraud while strategically managing your family finances, using a brand new feature in the MIT FCU mobile app called Card Control.
Your card, on your terms with Card Control*
The new MIT FCU mobile app feature that lets you control debit card usage and spending on the go.
Lock your cards, in an instant, for any reason
Control transactions by category (gas, restaurant, online or mobile purchases, etc.)
Receive alerts when your debit card is used, approved, or exceeds the transaction controls set by you
Stay informed of potential fraud with alerts on attempted, declined transactions
Get real-time balances for your accounts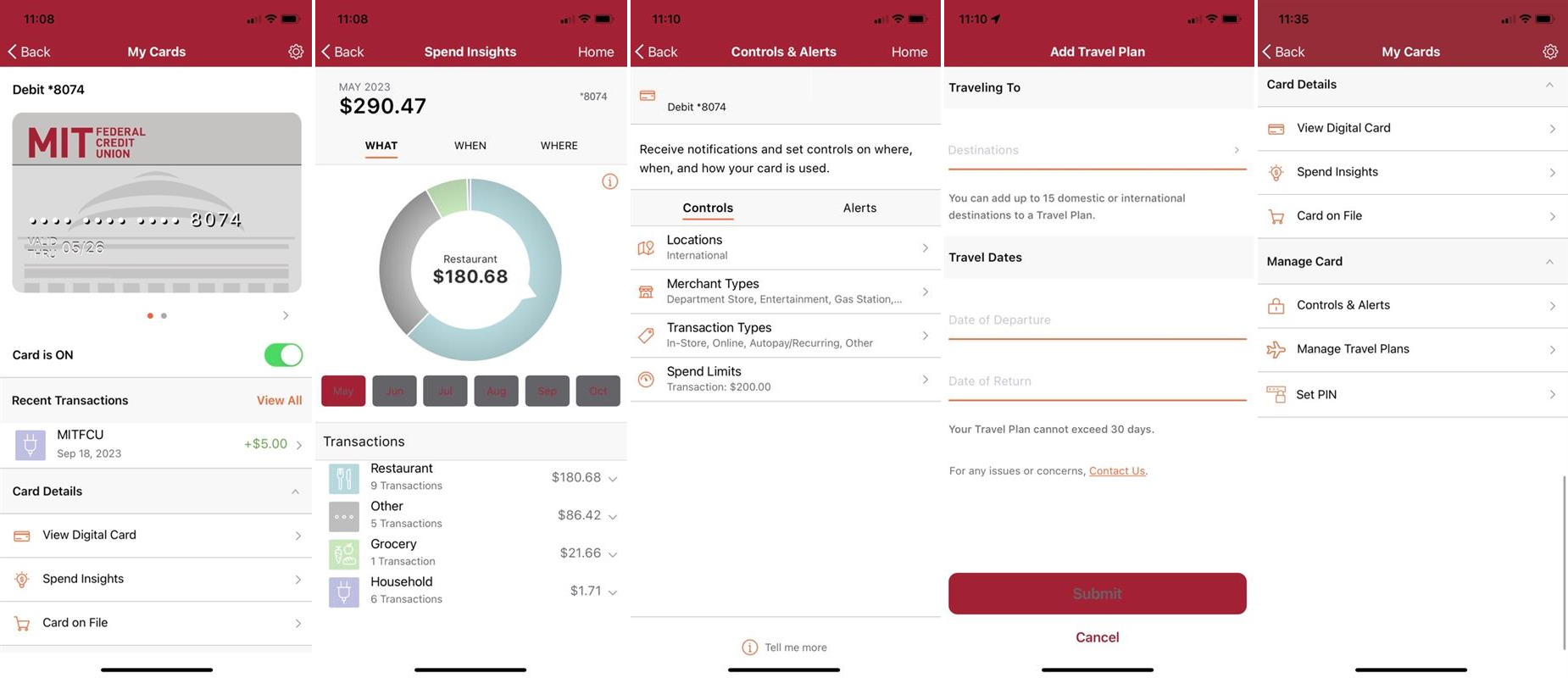 Fraud Protection
A lost or stolen card is just one danger in today's world, where identity theft, skimming, and other attacks are an unfortunate reality. Turning your debit card off when you're not using it helps safeguard against fraud. When your card is "off," no withdrawals or purchases will be approved. Transaction controls that allow your debit card to work only in specific locations or geographic areas, add another layer of protection. And real-time alerts keep you informed when your card is used or declined.
Control Spending
If you're trying to establish or stick to a budget, Card Control can help there, too. Set spending limits for general use or specify thresholds by merchant types, like gas, groceries, or retail stores. You can also establish these controls by location. The flexible app lets you quickly change these parameters anytime with your mobile device. Going on vacation? Holiday shopping? Simply update your transaction controls to fit your spending needs.
Use your MIT FCU mobile app to get started today
Step 1: Log into your MIT FCU mobile app and locate Card Control under More (iOS) or Menu (Android).
Step 2: Register for Card Control by accepting the Terms and Conditions.
Step 3: Set your preferences for Alerts and Declines for managing debit card transactions.
Download the MIT FCU app today and experience the convenience and flexibility of mobile banking.


Download for iPhone/iPad Available on the App Store


Download for Android Android App on Google Play
*MIT FCU does not charge for this service. Standard text and data rates apply.
Card Control is powered by CardValet®
CardValet® is a registered trademark of Fiserv, Inc. or its affiliates
MIT FCU Mobile App is free to all MIT FCU members. An internet-enabled mobile device is required to access MIT FCU Mobile App. Available only for Android™, iPhone® and iPad® devices. iPhone® and iPad® is a trademark of Apple® Inc., registered in the U.S. and other countries. App Store is a service mark of Apple Inc. Android is a trademark of Google Inc. Standard messaging and data usage fees apply. Please contact your carrier for details.
Go to main navigation